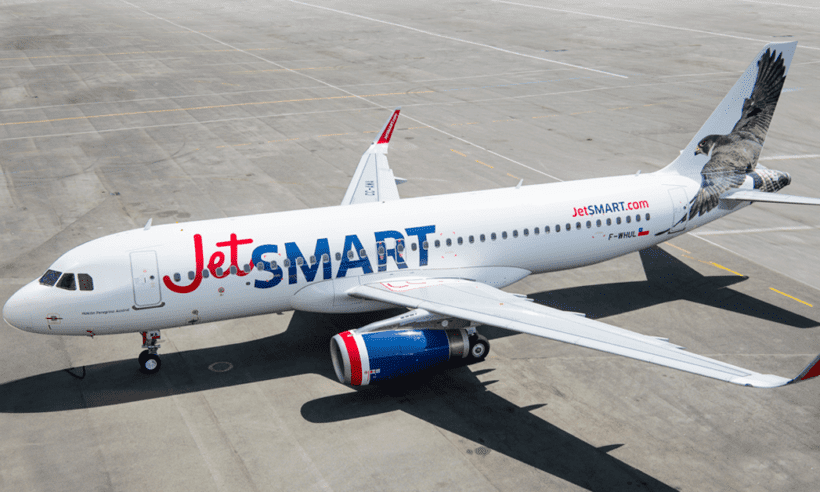 Tag:
a320
,
aerocivil
,
aeronautic strategic plan
,
air passengers
,
airbus
,
bogotá
,
cali
,
cargo traffic
,
chile
,
civil aviation
,
colombia
,
Frontier Airlines
,
indigo partners
,
Interjet
,
jetsmart
,
juan carlos salazar gomez
,
national development plan
,
plan estrategico aeronautico
,
plan nacional de desarrollo
,
plus ultra
,
santiago
,
spirit air
,
Viva Air
,
volaris
,
Wingo
,
wizzair
Santiago, Chile based JetSmart Airlines has begun flying routes this month between Santiago, Chile, and Bogotá, Colombia, and in December between Santiago and Cali, Colombia with 3 daily flights in its fleet of Airbus A320s.
JetSmart joins several other international carriers expanding Colombia service, including Wingo, Spirit Air, Plus Ultra, Interjet and Viva Air, while dominant domestic carrier Avianca cancels routes and sells off subsidiaries. JetSmart is backed by Phoenix, Arizona-based Indigo Partners, the same secretive group of aviation industry investors behind Frontier Airlines, Volaris, and WizzAir.
"Air connectivity doesn't slow, and the arrival of this new air operator to the country is the result of the liberalization of the international market. The Colombians time after time have more options to mobilize and today the route between Bogotá & Santiago, the only route that was approved under the previous bilateral relations, is joined by the Cali-Santiago route, thanks to the recent liberalization in destinations which can be operated in both countries, and permits the entry of the first low-cost airline on this route," said Juan Carlos Salazar Gómez, director of Aerocivil, Colombia's civil aviation regulatory authority.
"On behalf of the government we will continue working to consolidate Colombia as one of the most dynamic aero-commercial markets.
As part of Colombia's National Development Plan, the Aeronautic Strategic Plan has seven themes oriented towards constructing a network of efficient aerial transportation in Colombia, and a stated goal of reaching 100 million air passengers and double the cargo traffic by the year 2030.
Facebook Comments