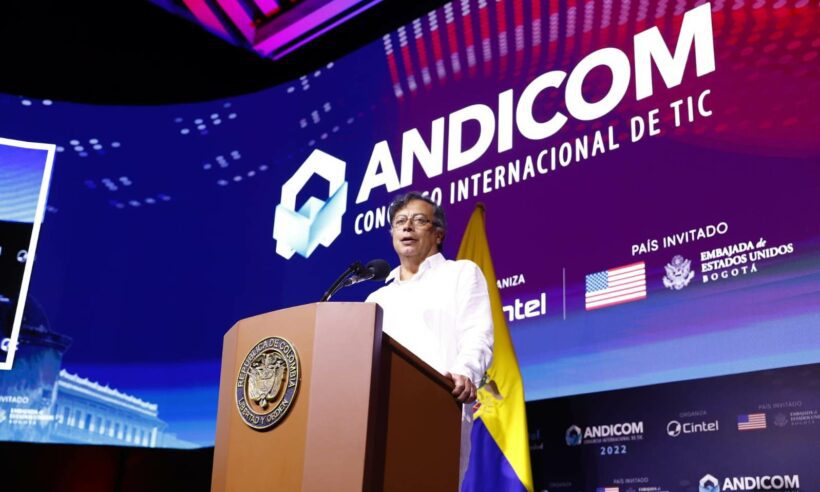 The largest regional IT industry event. ANDICOM 2022 this year brought together more than 4,500 attendees, 140 tech sector exhibitors, and 120 speakers in Cartagena, Colombia at the end of September.
Mario Castaño, Technical Director of CINTEL, organizing entity of the ICT Congress, launched the event by addressing various issues like digital automation, blockchain, crypto crash, smart cities and others.
Colombia's President Gustavo Petro Urrego (above photo), keynoted, giving an extensive analysis of the state of Colombia's technology, admitting that there are large gaps between digital haves and have-nots, and pledging to work on connectivity that benefits, impacts and positively transforms to the country.
In the middle of his speech, he pointed out that, "Technology in the country shows us the deepest inequalities. We will propose to take a leap in connectivity and expand it. Connectivity cannot be generated without knowing how to use it in production and productivity, I also call this working on digital literacy, because connectivity helps us generate wealth."
"We have accomplished a lot with ANDICOM. With pride and humility I can say that we have achieved more than 500 projects, where the key word has been information and communications technology. This is a networking space, let's learn about trends and all the latest ICT news. We want to project the region, we want to project Colombia as a leader that pushes and pulls digital technology," said Manuel Martínez, Executive Director of CINTEL,
In ANDICOM's 37th year, the United States was the guest of honor, commemorating 200 years of diplomatic relations between the US and Colombia, and 10 years of the Free Trade Agreement between both nations. Arun Venkataraman, Deputy Secretary of Commerce and General Director of Foreign Trade of the United States, attended the ceremony for this occasion, who was also present at the ribbon cutting, commemorating the consolidation of bilateral relations and the integration of ecosystems. of the two nations, Venkataraman was accompanied by the US Chargé d'Affaires Francisco Palmieri, Deputy Assistant Secretary Ian Saunders, and CINTEL's executive director Manuel Martínez.
Facebook Comments