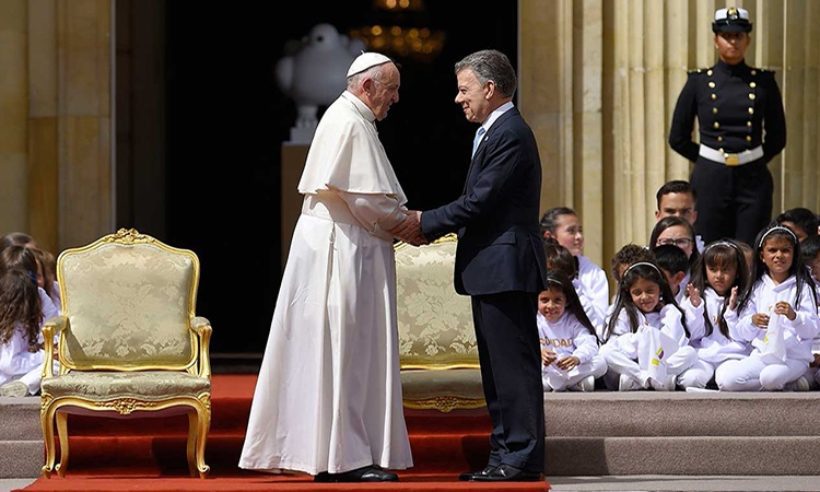 Since Pope Francis arrived in Colombia late Wednesday afternoon, the nation has been captivated by message and general presence of the Catholic leader during his prayer ceremonies, addresses, and other public showings.
One exceptional fact highlights the reverence and attention that has been paid to the pontiff's visit: there were no reported murders in Bogotá during the roughly 40 hours that Pope Francis spent in the nation's capital, according to the office of the mayor.
Photo: Pope Francis and Colombian President Juan Manuel Santos embrace at the Casa de Nariño in Bogotá. (Credit: Presidencia de la República)
Semana, the leading news magazine in the country, called this a "historic" figure in a city that even last year, during its safest 12-month stretch in decades, averaged 3.4 homicides per day.
Nationwide, homicides fell by 60% in the first 48 hours of the papal visit, according Colombian Vice President Germán Vargas Lleras.
The office of Mayor Enrique Peñalosa also stated that traffic accidents were down in the capital during the pope's two days in Bogotá, where nearly 1.4 million people participated in a mass service delivered by El Papa on Thursday.
Throughout his time in Colombia, Pope Francis has preached for love and reconciliation in a nation that has been deeply politically divided for the past year as the government finalized its historic peace agreement with the Revolutionary Armed Forces of Colombia (FARC) guerrilla faction.
In Villavicencio, on his third day in the country, he met with victims of the half-century-long conflict that killed more than 260,000 and displaced at least seven million people. As the nation prepares to reintegrate thousands of former FARC combatants back into society, most of which will receive judicial amnesty despite their involvement in killings or other illegal activities, Pope Francis urged the need to move beyond the wounds of the past even though forgiving such acts is difficult.
"Let us heal that pain and welcome every person who has committed offenses, who admits their failures, is repentant, and truly wants to make reparation," said Pope Francis in Villavicencio
In a video address to the nation, he urged even Colombians who are skeptical of the peace deal to be the ones to take the first step, "to be the first to love, to build bridges, to create fraternity."
While it remains to be seen if that message will continue to resonate in the country after Pope Francis departs on Sunday, people in Colombia seems to be heeding the pope's advice for at least a few days.
Facebook Comments