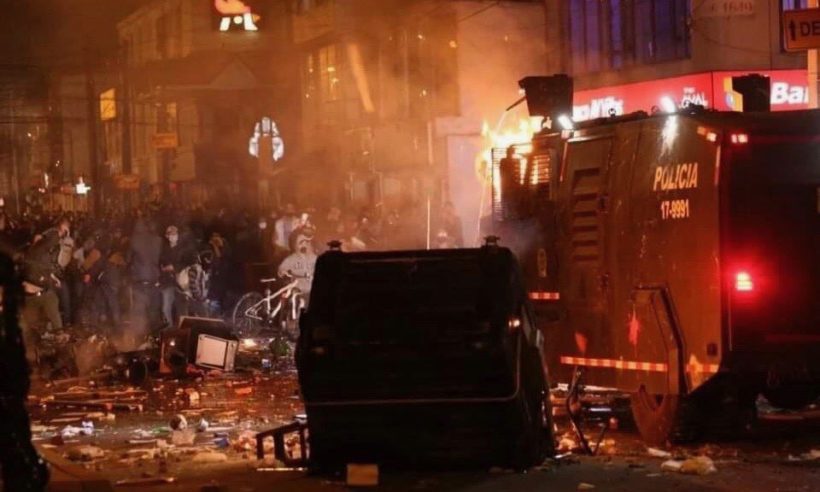 Tag:
#colombialivesmatter
,
#colombianlivesmatter
,
#javierordoñez
,
alejandra monocuco
,
anderson arboleda
,
bogotá
,
cali
,
colombia
,
colombian military
,
colombian police
,
covid-19
,
dilan cruz
,
duván aldana
,
ecuador
,
esmad
,
ibagué
,
Iván Duque
,
Jorge Ivan Duque
,
medellin
,
nestor novoa
,
Pasto
,
pereira
,
pndemic
,
Police
,
rape
,
riot
,
ritos
,
soacha
Violent riots broke out across several Colombian cities Wednesday night as citizens, in reaction to a blood-curdling assassination by two police officers of an unarmed law student the night before in Bogotá's blue-collar neighborhood of Engativá on the city's west side near the El Dorado international airport. The last police killing only the latest in several clear cases of police abuse in the country. Protests or riots were reported in Bogotá & its southern suburb of Soacha, Medellín, Cali, Ibagué, Pereira, and even the small, isolated city of Pastó, near the border with Ecuador.
Some peaceful protests degenerated into riots when provoked by police aggression.
Morning reports indicate seven dead and at least 140 injured. Some reports tally the casualties as high as 250. The killing of an unarmed law student returning home from the corner store by two police officers, apparently unprovoked, was the latest in a string of killings without any apparent provocation by Colombian police, and other abuses by Colombian military such as the gang-rape of a 13 year old indigenous girl by seven soldiers.
Video muestra enfrentamiento entre policías.

Un policía agrade a una mujer mientras esta es conducida por el ESMAD .
Miembro del ESMAD sale en defensa de la mujer.

Alcaldesa @ClaudiaLopez ordene que la policía le pida perdón a los ciudadanos que juraron proteger. pic.twitter.com/zES3TbJiP8

— Hollman Morris ????‍? (@HOLLMANMORRIS) September 10, 2020

In last night's disorder, police could even be seen fighting amongst themselves, such as this clash between regular forces in green, and black-clad ESMAD riot police (ESMAD = Escuadron Antidisturbios, or anti-disturbance squadron)
This editor has personally seen Colombian police approach a man on the street and punch him in the face before arresting him. The man was neither fleeing nor physically resisting the police.
Finance Colombia spoke to a career police officer on condition of anonymity: "I think I am going to retire. I can't see working in an institution so corrupt…Look, they stopped my roommate yesterday and said they were going to tow her car and fine her $438,000 pesos (about $110, USD, or a third a month's minimum wage) unless she paid them a bribe of $100,000 pesos cash on the spot." When asked why there was such a problem, the officer responded: "They recruit quantity, not quality." Furthermore, the officer shared that low pay contributed to the lack of quality in the talent pool of recruits. Take home pay for a 2nd year police officer, according to documents he shared, was less than $500 USD per month.
The match that lit the blaze
On Tuesday evening, 45 year old Javier Ordoñez, a taxi driver and father of two had walked to a neighborhood store from his apartment complex to buy drinks for himself and friends, celebrating that after several months, the government had finally relaxed curfews and restrictions related to the COVID-19 Pandemic. Ordoñez, according to his family, was shortly to receive his law diploma.
Warning: Disturbing Footage
The police it's abusing of it power and it's killing all people, there has been around 50 massacres this year with more than 200 victims, on Mondays night a man called Javier Ordóñez was killed by the police, he was a lawyer and had a family. They gave him 10+ electric shocks. pic.twitter.com/EPRRroJg2e

— COLOMBIAN LIVES MATTER ?? (@lonelyssussy) September 10, 2020
Juan David Uribe, eyewitness to the police attack and friend of Ordoñez recorded the incident on his mobile phone. "We were drinking in the apartment; we came down to buy more drinks. The police came, they stopped us, asked for our papers and such. One of them said to Ordoñez 'this doesn't save you.' 'Well, give me the fine,' said my friend. Then the police tackled him and shocked him 5 or 6 times (with a taser), the last one for way too long." Ordoñez can be heard begging the police to stop shocking him before falling unconscious.
Uribe and other bystanders began to record the incident with their phones while beseeching the police to stop. The police, according to witnesses, kicked and beat Ordoñez, and tasered him multiple times. He was unarmed, and there was no apparent reason for him to be detained, much less beat up and tasered. The screams brought more residents and family members out of the apartment building. The police snatched and broke the mobile phone of one of the witnesses, but Uribe was able to hide and continue recording.
Now unconscious, the police carried Ordoñez away, giving the crowd a false destination, a different CAI (Center of Immediate Attention, or small neighborhood police post common in Colombian cities). Ordoñez was declared dead by the time he was taken to a hospital.
The next day, Colombian President Ivan Duque spoke out against Ordoñez's murder. "We have seen painful events today, but we have also seen the gallant, iron attitude, not only of the Police commanders, but also of the Minister of Defense (Carlos Holmes Trujillo) and of the institutional framework for investigations to be carried out, for rapid progress and for the rules to be applied as they should be. And that principle of zero tolerance in the face of these events is precisely because in this country we Colombians love our public forces, we admire them. And for that reason, to any dishonor of the uniform we have to demand that timely, objective sanctions be applied, and of course, the product of rigorous investigations."
Duque also announced that the government would be arranging humanitarian flights for Ordoñez's family members to attend his funeral, some of which are currently outside of Colombia.
Not everyone was so contrite. Senator Maria Fernanda Cabal, known for her unconditional support of embattled ex-President Alvaro Uribe, and her extreme right politics was dismissive, calling the protests pre-planned (even though Ordoñez was killed the day before) by former President and Nobel Peace Prize winner Juan Manuel Santos. She admitted she had no evidence for such a claim, but called it "a global phenomenon…People are always mobilized through organizations that generate all kinds of destabilization." Cabal claimed that it was part of a conspiracy by Santos, saying he wants "a government of Ivan Duque and a country without hope so he can return to power with his own candidate." Cabal has changed her twitter photo to "#YoSoyPolicia."
Para mis súbditos mamertos, he aquí su Reina #LaReinaDeLaPanela
La próxima les patentamos la imbecilidad colectiva. pic.twitter.com/PUCpdT9wBB

— María Fernanda Cabal (@MariaFdaCabal) August 27, 2020
Other recent indignities:
Headline photo: Twitter
Facebook Comments